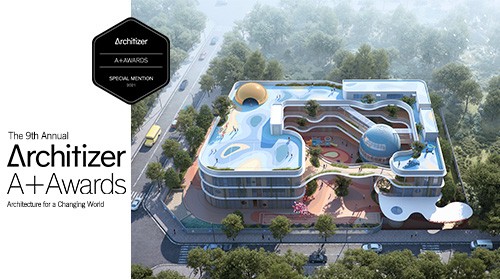 News
MUDA had been selected as a Special Mention in the 2021 Architizer A+ Awards
MUDA's Zhonghai TianfuLi Kindergarten project had been selected as a Special Mention in the Architizer A+ Awards for the TYPOLOGY - INSTITUTIONAL - Unbuilt Institutional category. 2021 Architizer A+ Awards received over 5,000 application from more than 100 countries, but only about three percent of the entries were recognized.
The A+Awards are organized by Architizer, the world's largest online community for architects. Architizer's core mission is to Empower Architects, via our marketplace connecting architects and building product manufacturers, and via our inspiring content, awards program, and global reach spotlighting the world's best architecture. We connect architects with the tools they need to build better buildings, better cities, and a better world.The Architizer A+Awards is the largest awards program focused on promoting and celebrating the year's best architecture. Its mission is to nurture the appreciation of meaningful design in the world and champion its potential for a positive impact on everyday life.

Located in the core business district of Chengdu Tianfu New Area, Zhonghai Tianfuli Kindergaren, provides a novel, ecological and evolving experience for the kindergarten. Echoing the concept of Chengdu Park City, the project's design-build guidelines also based on the concept of comprehensive development of children. The project has a building area of 4897 square meters; it's design took place in June 2020 and the project is currently in the advanced design phase. The project is expected to be completed in 2022.