——Connecting everyone through architecture
Space never simply serves as a container for physical form
But houses soul and spirit
We construct our home with poetic quality
While our home composes part of us with subtlety
Sun rises and sets; the wheel of city life keeps rolling over relentlessly. The tension and pressure have been lingering around the metropolitan worker for long and never fade away. Under such circumstance, what kinds of qualities should we value in the design of working space which occupies 1/3 of our day? The answer from MUDA is straightforward: the space is to be poetic, gentle, heart-warming, and inspiring.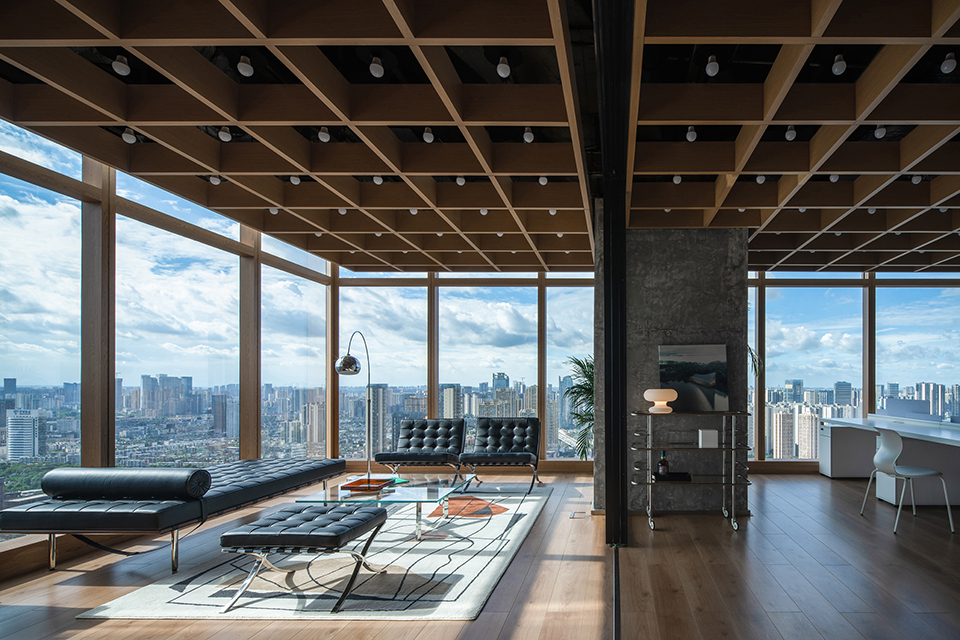 At the height of 160 meters and with a 270-degree view, MUDA new office-site is located at the 38th floor of Chengdu China Resources Building, right next to the eastern viaduct of the second ring road. When you look around, you can appreciate the gorgeousness of snow mountains on the west, and the well constructed city skyline and urban footprint. Full-height glazing blur the boundary between the cityscape and office-interior, whileThe main consideration for the spatial design was comfortability. To begin with, MUDA selected the wood color as the base and performed it with different materiality on the ceiling, floor and interior façade.
The spatial design of MUDA new office was aimed to reconsider and build up the ambiguity of the space in physical form, from the contemporary aspects of openness, comfortability and intellectualization. "We are only able to construct after to survive; housing is the biological expression of human beings, which suggests the desire to seek for the origin. "
A working space highly associated with city development would help MUDA to better incorporate its understanding towards humanity, architecture, nature and city within future globalization and design practice.
Project Name:MUDA Sky Office
Location: Chengdu, China - China Resources Building
Project Type: Interior Design-Office Space
Design Area: 350 sqm
Design Period: 2021.03 - 2021.05
Architecture Firm: MUDA-Architects
Principal Architect: Lu Yun
Design Team: Li Aidong, Lv Chenyu, Rong Dian
Lighting Design: BPI Lighting Design
Construction Team: Sichuan Chu Feng Architectural Decoration Design Co.
Photography: HereSpace - He Chuan