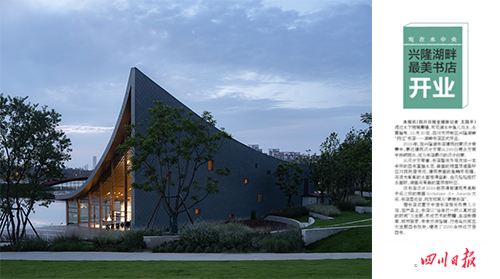 News
Chengdu Xinglong Lake CITIC Bookstore officially opened
On October 30, 2021, Chengdu Xinglong Lake CITIC Bookstore, designed by MUDA architecture firm, was officially opened.
✜

Grand Opening
Around the time of opening, topics such as Chengdu's Most Beautiful Bookstore and Chengdu's Underwater Bookstore instantly dominated the main social media searching lists, with over 10 million online views. Therefore, the bookstore attracted curious citizens to come, welcoming a daily average of over 10,000 visitors. The bookstore's 500 square meters of space were filled with visitors wanting to explore the "most beautiful bookstore in Chengdu" and experience "underwater reading". It's a lively scene.
✜

Press Releases
The Sichuan Daily commented on the bookstore as "the most beautiful bookstore on the shore of Xinglong Lake", and the Tianfu Releasing conducted a tracking report on the bookstore. Other media, including Punch, Tencent, Netease, and Sohu, also published related news.