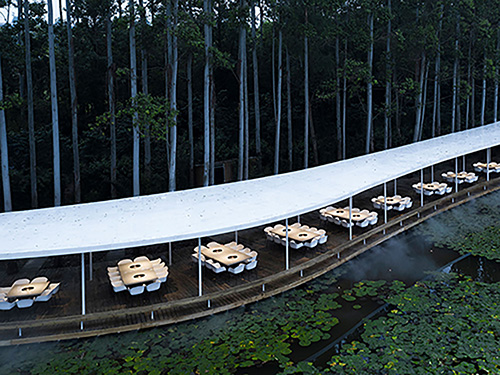 COMPLETED
Garden Hotpot Restaurant
✜
Design Concept
At the end of 2018, MUDA-Architects received the commission for Garden Hotpot Restaurant reconstruction. The site is located in Sansheng Township, a suburban area of Chengdu with remarkable natural conditions and ecological resources. MUDA-Architects takes this opportunity to integrate hotpot culture with the natural ecological environment, creating a dining space that respects the original ecology and is in line with modern consumption customs and patterns.

▼ Design Concept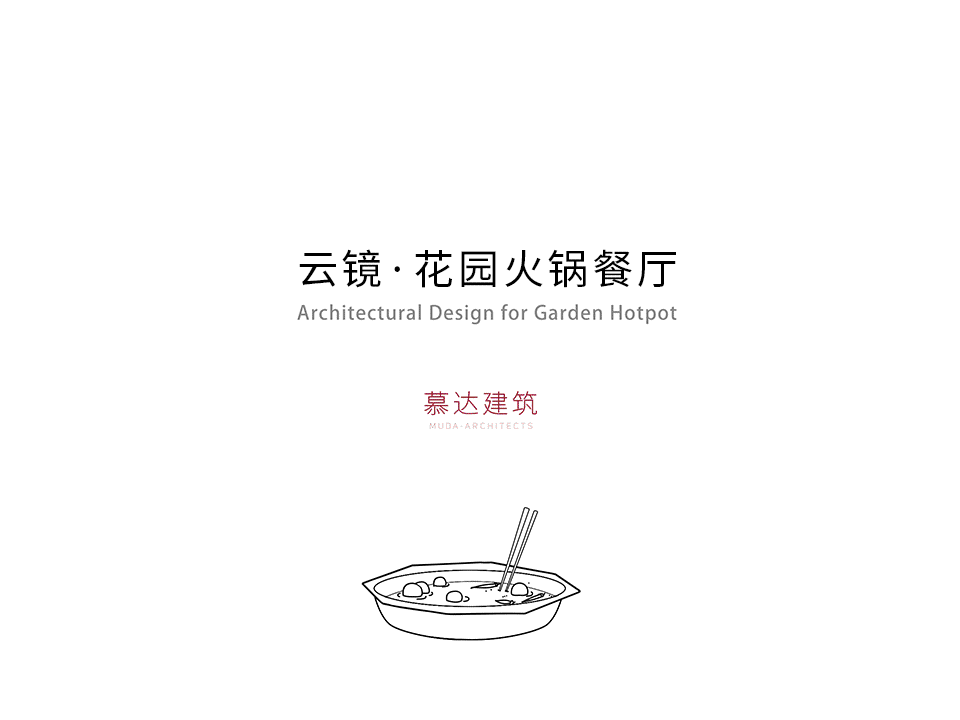 Located in the hinterland of Sansheng Township, the site is hidden in eucalyptus woods surrounding a lotus pond. In order to generate a biophilic dining space with a memorable dining ambiance, MUDA decides to eliminate the architectural scale by installing pillars and plates and neglecting solid walls to lightly conceal the building in the woods, which resembles the steam of a hotpot diffusing into the air. The spatial structure allows the restaurant to merge into the environment and facilitates the conversation between visitors and nature.
The site's stunning environment also characterizes it as complicated and native; several eucalyptus trees must be preserved within the design area, and the topography is undulating with a maximum drop of about 2 meters. MUDA manually mapped the trees and created the plan in accordance with the location of the eucalyptus trees and the lake, and the free curve of the roof was built based on the curvature of the site and the function of usage, all in an effort to respect the natural environment and avoid artificial interference with the natural site.
✜
Project Information
Project Name: Garden Hotpot Restaurant
Project Location: Chengdu, Sichuan
Floor Area: 1,800㎡
Project type: Architectural Design
Project Time: 2018-2019
Client:Xinhua Nufang Restaurant
Principal Architect: Lu Yun
Design Team: Xu Jiandan, Sun Qiming, Chen Xue, He Yixiu, Liu Xiaoqiao, Rong Dian, Zhou Shangyun
Construction Consultant: Sichuan Chufeng Architecture Construction Co.
Construction Consultant team: Wu Xianyong, Jiang Fei, Tang Wenjie, Li Songlin
Construction team: Chen Hao, Zhou Chuangui
Major Materials: Galvanized Steel sheet, Fluorocarbon paint, Anti-corrosive wood plank
Architectural Photographs: Arch-Exist