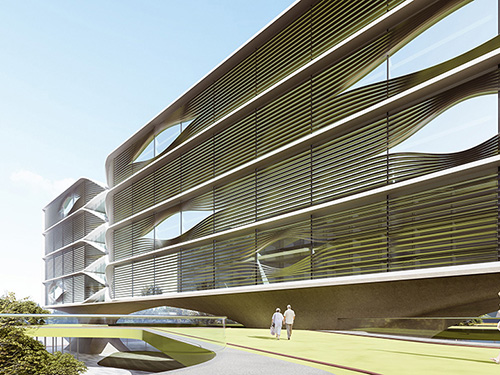 PROPOSAL
Shandong Dongping Experimental Landscape Residence
✜

Project Brief
The site locates in the periphery area of Dongping which is a county of Taian in Shandong Province.
With the development of urban integration, revitalizing rural construction with innovative community has played an important role in expanding rural areas and promoting urban integration. MUDA-Architects adopts landscape urbanism as purport to combine the function of infrastructure with the society culture. From the perspective of dwellers, the design emphasizes on the personal experience and the interaction between people and architecture to generate a rustic residence advocating diversified spaces and sustainability.
The plan contains six residential buildings, overhead platforms, open landscape space on the ground floor, characteristic public buildings at the entrance and northern commercial spaces on the ground floor. The proposed layout is inspired by fish swarming effect, the surrounding landscape and architecture seems to be converged at the central landscape in diamond patterns along streamlines. Residential buildings are elevated to provide public spaces on the ground floor. At the same time, landscape platforms are set up on the overhead floor as shared spaces for residents to communicate. The elevated terrace visually corresponds to the ground and sunken landscape for enriching layers of planes vertically.
MUDA aims to create a sustainable dwelling with unique spatial experience and high connection between people and surroundings by building up a coherent network system of landscape and architecture.
✜

Project Information
Project Name: Shandong Dongping Experimental Landscape Residence
Project Location: Dongping, Shandong
Floor Area: 85,000㎡
ProjectType: Architectural Design/ Planning Design
Project Time: 2019.09-2020.01
Client: Zhongya Real Estate
Principal Architect: Lu Yun
Design Team: Xu Jiandan, He Fan, Mei Yixuan, Rong Dian, Jia Shuran, Lyu Chenyu, Ni Dan, Guo Niyang